Seaton Car Park | Parking In Seaton
Parking in Seaton | All You Need to know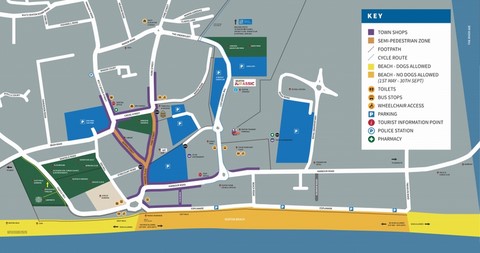 There are four/five car parks in Seaton operated by East Devon District Council.
They are:-
Orchard Car Park (Town Centre - Short Stay)
Seaton Jurassic Car Park (Long Stay)

Underfleet West Car Park (Peak Periods - Long Stay)
Seaton Town Hall Car Park (Town Centre - Long Stay, very small and busy)
Plus
Esplanade (Sea Front Street Parking max four hours, large area for "Blue Badge" parking)
---
Then there are three private car parks
Underfleet (Good value Long Stay)
Co-Op (Town centre max two hours, first hour free)
Tesco (Free for customers - max stay two hours)
---
There is a coach park near the tram station and the Premier Inn near Tesco has a car park for customers only.
---
Information on Parking in Seaton
Also within this web site you will find
options for parking for free in Seaton
which, if you do not mind a 10 minute walk, is usually available.
To summerise (assuming you do not go for the Free Parking in Seaton option).
Coming for up to four hours? Park on the seafront on the
Esplanade Parking Area
, plus this is free after 6 pm, so if you park after 2 pm and pay up to six pm then the evening is free.
Coming in for the evening? Parking is free after 6pm on the
Orchard Car Park
in the town centre or on the
Esplanade
and free on the streets in the town centre.
---
Please note none of the pubs or restaurants etc. in Seaton have their own car park with the exception of the Premier Inn
Winter Shopper Special 2021/2022
Running from the 1st November 2021 to the 31st March 2022 residents and visitors will be able to purchase a £2 ticket from a ticket machine and it will be valid in any East Devon car park until midnight on the day of purchase.
You can use your ticket in any East Devon District Council Pay & Display car park until midnight on the day of purchase.
Pay just £2 and park for the rest of the day (till midnight) and the same ticket can be used in any East Devon District Council Pay & Display car park. The ticket will show the "normal" expiry time but as long as you have paid £2 it will be valid all day.
Excludes Parkmobile payments and Permit Holders.
---
Blue Badge Parking in Seaton
See our page regarding Blue Badge Parking
here
---
Longer term Parking in Seaton
See our page regarding longer term parking
here
---