Seaton Car Park | Orchard Car Park
This Car Park can be found off Beer Road and access is easiest through the town centre.
The Car Park has a post code of

EX12 2PD

It is deemed Short Stay and charges apply up to 6 p.m. every day.
Season tickets are available.
Pay in cash or by card and phone.
RingGo location code

42934

Street lights turned off at night and it is very dark in there after 11 pm
Right now the former CO-OP car park in the town centre is free 24/7
---
Orchard Car Park Seaton | Seaton Parking


This could be considered the "Town Centre" car park and is actually situated away from the area known as Underfleet where most fo the car parks are. Finding is is actually more difficult than all the other car parks in Seaton, but that said it can be busy. It is deemed as a "Short Stay" car park and parking is charged between the hours of 8 a.m. and 6 p.m. only. It is free after 6 p.m. so an ideal place to park if you are having an evening out in the town.
The car park has 164 spaces.
Please note the lighting goes off at 11 p.m. and it will be pitch black as there is no real ambient light, save for the moon!
---
Orchard Car Park Seaton | Parking in Seaton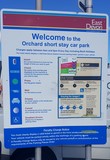 To find the car park you should:
If at the top end of Underfleet (so away from Harbour Road) head down the one way street in to the town centre and follow the one way system to a T Junction where you should turn left (road now two way). Follow this around the bend and the car park is on the right after 100 yards.

The other option is to approach it from the Beer side of Seaton and then turn down Beer Road. Unless you know the area you are better off to use the option above from Underfleet.
---
Cost to park at Orchard Car Park Seaton
The price to park is 75p per half hour.

On some of the long stay car parks there is a maximum price and then you car stay for 24 hours, there is no cut-off at this car park as such, so if you are staying for six hours it is all charged for. If you are planning to stay over six hours it is £10 for 6-24 hours.
Enlarge image to see prices for 2/3/4 and 7 days (but
this car park
could be cheaper)
---