Underfleet Private Car Park
This Car Park can be found off The Underfleet and one of the cheapest in Seaton
The Car Park has a post code of

EX12 2PQ

Maximum stay is 24 hours
No option to pay by mobile phone.
This Car Park is monitored by cameras, do not enter unless you can and intend to park
You can pay by card provided you are paying over £3.
You

must

enter your full registration number on getting a ticket.
Seaton Underfleet Car Park | Parking in Seaton
This car park is unusual as it is privately owned and not linked to either a supermarket or East Devon District Council. That does not mean you cannot park here, you certainly can, and indeed it could be your cheapest option depending on how long you are staying. See the image for the latest tariff.
Do not enter the car park area unless you intend to pay and park.

The Underfleet Car Park | Seaton Parking
The car park is monitored by a CCTV camera that records your entry and exit times, the signage says you have a period of five minutes grace (!).

So you are advised not to just pop in this car park while you make a phone call, change the baby, read a map etc. as you might get a ticket! The car park at nearby Brascombe has a reputation for issuing tickets to people overstaying by a few minutes, this one it seems does not have such stringent rules but you should, nevertheless, not overstay your paid period.
How to find Seaton Underfleet private car Park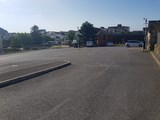 To find the car park drive down Underfleet to the roundabout towards the bottom of it and turn off towards the Co-Op. After just a few yards turn right up the slope, the car park may be found on your left where the Town Hall Car Park is to your right. Make sure you pay at the correct machine!